Classes
For more information regarding class offerings or to set up an appointment
to meet with Mary Boyer, please
contact MTB Studio
or call 917-885-7450.
CLASSES
Scene Study Class for Stage and Camera (On-Going)(top)
Taught by: Kim Plumridge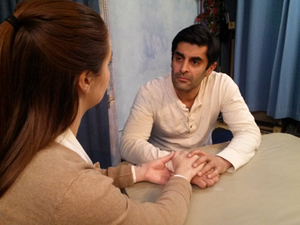 4 Week Session: $260
A true technique class geared for those students serious about learning the craft of Acting. Actors in these classes learn to execute the most powerful and committed choices. Through partnered scene work, group exercises, and individual exercises, actors gain confidence to create more than what is on the page.
These classes challenge the actor's defense system; enabling the actor to work through problems that may be holding them back. Emphasis is put on the command and flexibility of the actor's instrument.
The scene work will alternate between stage and camera to enable the student to easily translate their work from stage to screen to TV.
"Kim is a dedicated, passionate teacher who provides a safe, supportive environment while pushing you to your potential and past it. Taking class with Kim Plumridge was a blessing from the universe."
- Jeremy Burnett
All levels - including beginners - are welcome in this class. Material and partners will be selected to support you in terms of where you are at with your training and help you move on to the next level in your journey as an artist.
Admittance to this class will be based on an interview with Kim Plumridge.

UPCOMING SESSIONS
Thursday Evenings
6:00p.m. – 9:00p.m.
Jan. 4th - Jan. 25th
Feb. 1st - 22nd
March 1st - 22nd
April 5th - April 26th
May 3rd - May 24th
June 7th - June 28th




Saturday Days
12noon - 3:00p.m.
Jan. 6th - Jan. 27th
Feb. 3rd - Feb. 24th
March 3rd - March 24th
April 7th - April 28th
May 5th - May 26th
June 9th - June 30th



Advanced Scene Study for Stage & Camera(top)
Taught by: Mary Boyer
MASTER CLASSES; ONE DAY INTENSIVES OFFERED THROUGHOUT THE YEAR
Once the actor has acquired critical acting tools and the skill of using their tools, in this class they will learn how to take the art of storytelling to a higher, more exciting level. It is at this point that the actor is ready to be challenged with material and partners that demand a higher standard of work. This class builds on everything the actor has learned, and requires a greater level of commitment. Through the use of scene work and exercises, the actor's depth and range increases. Their ability to take on risks and their skills in problem solving characters that are vastly beyond their experiences grows and deepens.
"MTB Studio is a very special place to me. I'm thankful to have had a lot of success in this crazy business and the genesis of it all was when I found MTB Studio. Mary gave me wonderful acting tools and it is because of her and this place that I am where I am today. I am happy to say that I have been making my living as a Film/TV actor for quite some time. Whenever I'm on set, all of the work I do with every character comes from everything I learned here. My actor road map from class is proudly on my wall to this day. MTB Studio is a wonderful place and I'm thankful to say I came from here." Hakim Callender
Admittance to this class will be based on a recommendation from Kim Plumridge and/or an interview with Mary Boyer.
CLASSES ON-GOING THROUGHOUT THE YEAR; CALL FOR DETAILS
UPCOMING SESSIONS
Audition Technique Class (top)
Taught by: Mary Boyer
Private coaching via Skype taught by Mary Boyer; contact her at mtbstudio@hotmail.com for more info.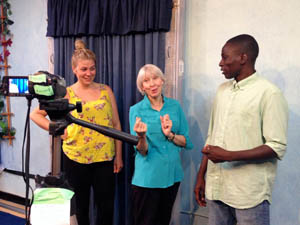 This class is all about becoming a "smart actor". This comprehensive course covers all aspects of the casting process and will clear up myths and misconceptions about auditioning; giving you clarity and confidence.
Subjects covered are: choosing photographers, getting the best headshots, setting up a resume, finding auditions, interviewing with casting directors and agents, choosing monologues, and executing cold and prepared readings for stage and camera.
Gain a new perspective which will make auditioning easier, less stressful, more productive, and maybe even fun!
Stop wasting your time and learn how to market yourself wisely, while honing in on those aspects of the auditioning process which are in your direct control and coming to terms with those things that are out of your control.
"Mary's 4 Week Audition Technique Class is in a class of its own. The course is beyond Industry Standard. I attribute 90% of my success to this class. If you are a serious actor and ready to book TV/Film/Theatre work, this class will surely get you prepared for all three mediums and save you years of trial and error in the audition room. I never looked at auditioning the same way again." Adrian Matilla
Audition 'Workout' Class (top)
Taught by: Mary Boyer
Private coaching via Skype taught by Mary Boyer; contact her at mtbstudio@hotmail.com for more info.
Taking an Audition Technique Class is not enough! Once you have the skills necessary to give great auditions, you need to keep those skills honed. Auditioning is like a sport; you can be at the top of your game but if you don't put yourself through workouts on a constant basis, then your 'muscles' become flabby and your dexterity is undermined. For many actors, auditions are few and far between; that means you won't bring your 'A-Game' to the audition unless you have continued to keep warmed up…ready to go at a moment's notice!
The field is too crowded and too competitive; you cannot afford to walk in with less than a great game for every single audition. This class will be the vehicle for you to keep those skills at the ready.
"I studied acting for years with Mary so I knew I had the technique and foundation to DO the work, but GETTING the work was a whole other beast. I realized that auditioning required an entirely different toolset and mindset and I was determined to get good at it. Mary's Audition Workout Class gave me a place to practice and sharpen the skills I needed in order to quickly analyze the sides and create an entire world/life in the audition room. Now instead of being afraid or intimidated whenever I get an appointment for an audition, I was confident that I knew what to do in order to bring my A-game to the audition. I get many more calls now because casting directors know that they can count on me to deliver a great audition." Shamika Cotton
"I came to Mary's studio looking to improve my auditioning skills. At that time I had no idea what the Audition Workout class would entail, since I thought acting and auditioning were essentially the same thing. But it wasn't at all. I've learned the technical stuff, how to enter and leave the room, how to read the script, how to stand, how to relax, how to use my voice and most importantly how to marry them all together. I hated auditioning before I met Mary… now - I love it! I have been called in for bigger auditions and often receive great feedback from casting directors." Kadia Saraf
Special Character Class(top)
Taught by: Mary Boyer
One Day Workshops scheduled throughout the year. Contact Mary Boyer at mtbstudio@hotmail.com for more info.
Through work on "special characters" (i.e. characters that demand a complete transformation of the actor's voice, body, and personality) the actor is given a chance to strengthen their character development tools, as well as broaden their range and castability. Using a completely different set of tools, and working on a character the actor might never be cast in, or on material that is outside their "comfort zone", many challenges, discoveries, and delights await the actor.
This work is outside the mainstream character development work that is a part of the on-going scene study classes. It is very demanding physically and vocally and is for advanced students only. This class is only open to students that have participated in the On-Going Scene Study Classes for at least six months.
This work is challenging and rewarding and is especially important in light of recent performances by Christian Bale, Tilda Swinton, Meryl Streep, Leonardo DiCaprio, and so on. It takes tremendous courage to do this work! And it is tons of fun, by the way!

Develop The Actor's Instrument With FELDENKRAIS® Voice, Body and Spirit Lessons(top)
Taught by: Kim Plumridge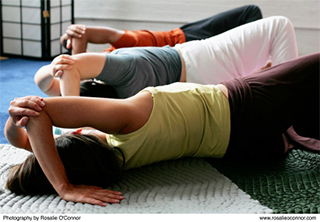 A grounded, relaxed and integrated Actor's instrument is the key to working in any medium: Stage, Film and Television. These unique lessons based in the FELDENKRAIS METHOD® can be incredibly effective in developing and fine-tuning the Actor's Instrument. Each private session includes a gentle AWARENESS THROUGH MOVEMENT® lesson as well as breathing exercises, vocal warm-ups and text work. In addition, Actors will also learn simple, short and practical warm-ups they can use to ground themselves before an audition or performance.
"Knowing that you have more control over your instrument and being able to count on it means everything to an actor. With the tools I have learned from Kim's FELDENKRAIS® Voice, Body and Spirit Lessons, I am now able to do the work, count on the work doing what it is supposed to do, and being completely grounded and connected. I can't thank Kim enough!" Leah Gallimore
CURRENT SESSION
Private Lessons available by appointment only. Please contact Kim Plumridge at
kmpcreativenyc@gmail.com
or 914-772-0780. In addition to private lessons, Kim also conducts
Feldenkrais®
Monologue Workshops from time to time. This workshop connects breath work, vocal warm-ups, and acting exercises, resulting in a deeper, more soulful, and heartfelt connection to scripted material. Contact Kim for info on when her next workshop will be held.
Workshops and Special Classes(top)

Brush up on your relaxation exercises, script analysis skills, problem solving tools and more by taking advantage of some of the special workshops offered here at MTB Studio.
Relaxation/Preparation Workshop (1 Day Session)
*Taught By Kim Plumridge*
TBD


A great way to review your approach to relaxation and preparation by participating in a series of exercises such as The Chair, CEP's (Closed Eye Process), Gentle Vibration Work, Tense & Release based work, Breath based work, and much more.

Script Analysis Class: (1 Day Session).
*Taught By Kim Plumridge*

UPCOMING SESSION

TBD


An in-depth look at the actor's ROAD MAP! This is the actor's most critical tool in beginning Script Analysis and subsequently their Character Development Work. Without a thorough understanding of how to use the Road Map, the actor is in danger of not fulfilling their responsibility to 'Telling the Story' AND bringing themselves to that character.
Sample Class
*Taught By Kim Plumridge*
TBD



TBD

Description of Class: An afternoon of FUN! A great opportunity for potential students to get a real feel for the Studio and our classes, and to learn a bit of technique at the same time. This sample class includes group concentration/relaxation exercises, a Feldenkrais® vocal warm-up, some acting games & generic scenes.